OHAF live @ skur 14
Evenemangsinformation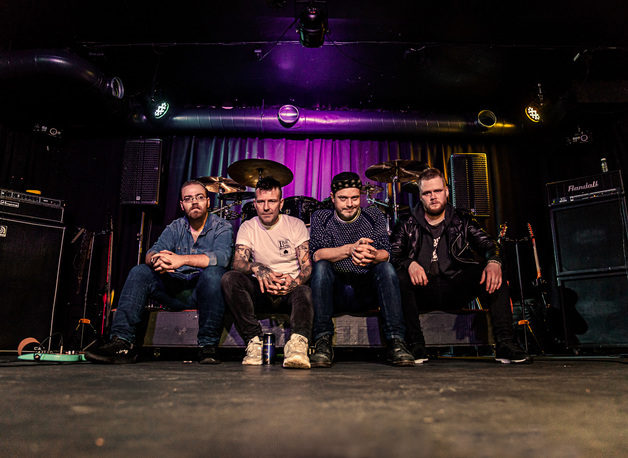 OHAF er tilbake og inviterer til heftig live show på Skur 14.
Det blir hardt, energisk, fengene, masse blinkende lys... og ikke minst ville tilstander.
OHAF spired from the wet streets of Bergen some many years ago, and with their dark and punchy sound the band have been a rock in the metal genre in Bergen. Back in april 2017 they released their first EP "The first taste is the sweetest". It got spins on national radio and Scream Magazine gave it 5/6. Simultaneously the band released the music video "Turning Point", starring Ina Svenningdal aka Chris from the famous tv series SKAM. Earlier this year OHAF released the single "Third Eye".

Music:
https://open.spotify.com/artist/2ryC4HB7I31GIWJIRnz15o?si=OvZZQZBDQ7e0JLGglXSfXA
DEATH THRONE is a new and a very hard kickin metal band from Bergen. The band is playing music with high intensety, the riffs offers no mercy, and attacking killer vocals. Metal and a wide range of other genres goes hand in hand and offers an apocalyptic & grotesk mix of music. The band is hittin the stage @ bylarm in march and just released the single Wounds.
Music:
https://spoti.fi/2MfwPqn
Facebook:
https://www.facebook.com/deaththroneband/
SØSTRE er et Bergenbasert band som spiller en salig blanding av svartmetall, punk, prog og thrash.
Blacknroll er en treffende nok beskrivelse, selv om låtene tar seg de frihetene de ønsker. Tekstene er utelukkende på norsk, og omhandler alt fra kosmos og hekseri til sosiale forhold.
Live er Søstre en svett og energisk affære, med animerte visuals og ritualistiske overtoner.
Music:
https://open.spotify.com/artist/5IfulY6CD0uRwy6IX6SWph?si=f3TZcESjQsqpaIKYnOyBDQ
Restriktioner
18 års grense
Ansvarsfriskrivning
Kjøpte billetter refunderes ikke